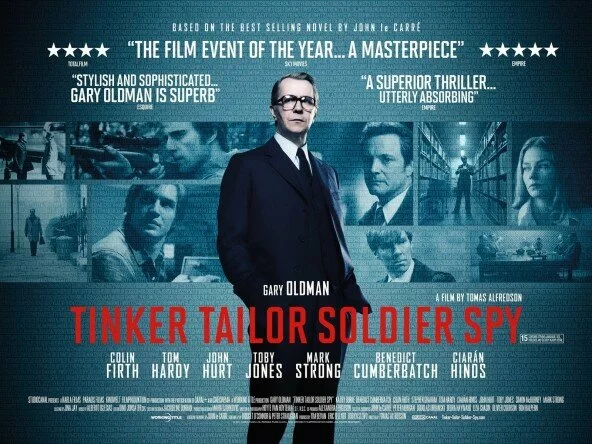 I'm on a kick of watching some nonblockbuster types of movies. We've started renting movies from iTunes and we came across this gem of a film. Tinker Tailor Soldier Spy is a 2011 film from Swedish director Tomas Alfredson starring Gary Oldman based on John le Carré's novel of the same name. The story itself is a Cold War masterpiece where the Russians, British and Americans play their games of cat and mouse in post war Europe.
I never read the book or saw the 1979 BBC miniseries, nor did I need to. Alfredson did a wonderful job bringing this film to life. His eye for the story and his eye for the man-in-the-grey-suit era of England is how I see that period when I close my eyes. Heavy curtains, everything seems to covered in a thin film of water, grey, dark. I can almost smell the cigarette stained rooms, the scotch on breaths, and the cheap cologne to cover the smell. What passes before our eyes on the screen is not just an attempt to capture the time but it's a shrine to a period of time that's gone, never to be seen again.
Gary Oldman never ceases to amaze me. My first introduction to his talents was a little known 1986 film called Sid and Nancy, but he really hit my radar with Rosencrantz and Guildenstern Are Dead and State of Grace. One a dark and strange comedy about our two friends of Hamlet and their unfortunate demise, the other, well it's a dark cops and robbers story that still a good watch today. Oldman is an incredible character actor who is aging masterfully, like a fine whine. His performance in Tinker Tailor Soldier Spy is perfect, he plays the part of a Cold War spy who is sent out to pasture during a broad clean sweep of the Circus (British Secret Service). However, he's not retired long before called upon by his superiors to lead an off the book investigation that leads to a fantastic game of cat an mouse. Oldman pulls off Mr. Smiley without a hitch, Mr. Smiley does not smile, in fact he never shows expression, it's a role that requires an incredibly talented actor, one with a face that you want to spend time watching, one that can express that Cold War.
His performance is so magical that I forgot to watch the film and found myself studying him, even at times challenging his straight lips, trying to find the smile. It's a movie that I'll need to see a few times. Not just for the performances, and they were great! With a supporting cast of  Colin Firth, Tom Hardy, John Hurt, Toby Jones, Mark Strong, Benedict Cumberbatch, and Ciarán Hinds, it's easy to get lost watching each one of them pull off masterful performances. If anyone was wondering about the abilities of Tom Hardy and Benedict Cumberbatch on a big screen, they needn't; these gentlemen are fantastic. As is the cast. Firth, Jones, Strong, Hinds have all proven themselves time and time again and this film is no different. And John Hurt is just a marvel.
When you have time to watch and follow the story you'll find yourself wrapped up in a non action, explosive spy film, a classic spy film where no one  is what they seem, no one is really portrayed as a good guy and the good guys are extremely flawed. As the plot carefully unfolds you are treated to an original, classic story that is a joy to watch. As I mentioned I'll have to see the movie again as Alfredson takes us through this tale playing with us the whole time.
The book, the movie and the BBC series are available on Blu-ray from Amazon.com.
You can discuss this movie further on the fwoosh forums.