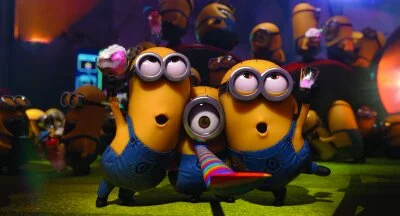 Despicable Me 2 may be the smartest animated movie I've seen since Toy Story 3.
It's not because of some complicated plot, outlandish adventure or a slew of new characters.
Nope, it simply works because the filmmakers understood what audiences loved about the surprise 2010 hit and just deliver on that promise in creating a sequel overflowing with heart, charm and those awesome Minions.
The scene-stealing lackeys from the first film who make up for their lack of dialogue with consistently hilarious antics get a lot more screen time and somehow it's never enough.
Just watching them bop around is enough to make you smile, and their frequent changes of attire and mood swings only makes them more entertaining. They're that special touch that makes this franchise soar and once again they'll have adults and kids wanting their own squad of Minions.
Our former evil mastermind Gru (Steve Carell, The Incredible Burt Wonderstone) has completely reformed and is now devoting his skills to being a super dad to his adopted daughters — Margo (Miranda Cosgrove), Edith (Dana Gaier), and the adorably sweet Agnes (Elsie Kate Fisher).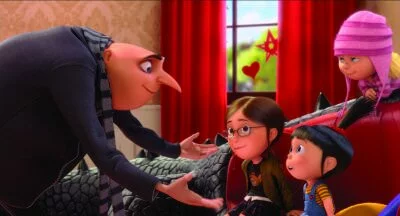 Where he once was obsessed with world domination, Gru is content to stay busy crafting the perfect jelly, much to the chagrin of his longtime collaborator, Dr. Nefario (Russell Brand, Forgetting Sarah Marshall), who leaves the happy household in search of a new villain to assist with his inventions.
Gru's love life isn't any better either despite his neighbor's insistence on setting him up. Gru hasn't had much luck with women after a traumatic childhood experience, which we see via humiliating flashback.
Directors Pierre Coffin and Chris Renaud are deviously sneaky in these emotional scenes that really make you care about the characters in a way that doesn't feel as manipulative as it could in other hands.
Gru's retirement doesn't last as a new powerful villain begins his latest crime scheme. Gru is recruited to aid the Anti-Villain League and partner with Lucy (a lively Kristen Wiig, Bridesmaids), a long-legged, gadget-wielding agent. Maybe Gru may find love after all?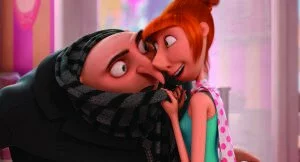 Working undercover at the mall, Gru is convinced the mastermind is the overly-friendly Eduardo (Benjamin Bratt, Snitch), who bears a close resemblance to the comically tough guy villain El Macho.
The super villain subplot seems like an afterthought to the point that it's almost anticlimactic at the moment of the big reveal. But screenwriters Cinco Paul and Ken Daurio aren't trying to reinvent the animated adventure movie here, just keep the audience entertained.
The Minions again prove their worth as Most Valuable Lackeys and they continue to find new ways to make you laugh. Fortunately for us Minions fans, a Minions spin-off is set to be released Dec. 19, 2014.
Adults, be warned in the last scene your allergies may start flaring up something fierce leading to severe watering of your eyes and tightening of your throat. Just a head's up.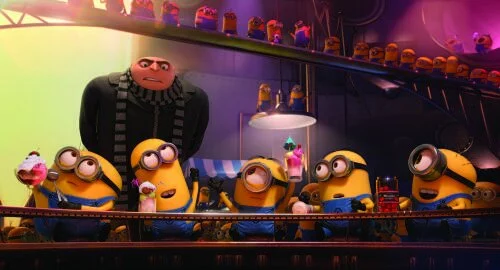 Despicable Me 2 isn't the most groundbreaking sequel, but it's Pixar-level goodness that's a lot of fun for the whole family with as many feel-good moments and laughs as there are Minions.
Rating: 8.5 out of 10
 Check out more reviews, including "Kevin Hart: Let Me Explain" at my site.