It's been more than a week since the BBC revealed the identity of the actor slated to take up the mantle of the Doctor later this year, so hopefully some of the dust has settled and fans have had a chance to get acquainted with the man who is to play the 12th Doctor. On August 3, there was an hour-long special that aired simultaneously in the US and the UK that introduced the new Doctor to the world. The special contained almost as much pomp and circumstance as the introduction of a new pope or a royal wedding. It's crazy to think just how popular Doctor Who really is these days — even the new James Bond doesn't get anything close to this sort of an introduction.
There was a LOT of speculation leading up to the reveal that suggested the new Doctor may be a woman. Neil Gaiman introduced this possibility a couple years ago in an episode he penned ("The Doctor's Wife"), so it is something that is officially on the table. This was not to be our first female Doctor,unfortunately, but there has been talk that it's something that will happen in the not-too-distant future. Hopes of a female Doctor were actually dashed fairly early when bookies in the UK stopped taking bets on who would be cast in the role. Since it would seem the citizens of the UK will bet on anything, bookies actually stopped taking bets on the casting of the new Doctor in the days leading up to the reveal because the new Doctor's identity was considered to be such a certainty. It turned out they were right — halfway through the special Peter Capaldi, who was the heavy favorite, was introduced as Matt Smith's successor — the 12th Doctor.
To say reactions to Capaldi's casting have been mixed would be an understatement. Capaldi has made a name for himself in the role of Malcom Tucker on In the Thick of It, and he has actually already had some smaller roles in the "Who-niverse" by way of Torchwood and a small part on Doctor Who during David Tennant's run as the Doctor. So it isn't his acting chops that are in question since he certainly seems to have cultivated the necessary pedigree, so what's the controversy?
Believe it or not, many people seem to be having a problem with Capaldi's AGE. At 55, he 's the same age William Hartnell was when he introduced the world to the Doctor way back in 1963, so older Doctors are certainly nothing new to the series. What's the issue then?
Part of the problem is that in this age of Twilight and Harry Potter, the leading man is generally someone with massive sex appeal. The Doctor may have begun as an elderly grandfather, be he has been skewing younger and younger lately with each regeneration, especially since the revival kicked in. At 26, Matt Smith was the youngest actor ever to play the Doctor, and between Smith's and Tennant's respective runs, the world slowly became accustomed to a young Doctor who was a snappy dresser with great hair (like, ridiculously great hair, according to Rose). Couple that panache with the ever-present sexual tension in the show between the Doctor and Rose/Martha/Amy/Clara, and the role of the companion suddenly became the proxy for a relationship with the "ideal man." How many Facebook and Reddit memes have been created in reference to fans' desire to run away with Tennant and Smith? LOADS.
When Capaldi was cast, however, dreams of a handsome, young Doctor were suddenly quashed. Gone was the dashing, dynamic, forever-young Peter Pan, and in was someone old enough to be certain fans' father, or even grandfather. Not that Capaldi isn't a handsome guy in his own right, of course, but in a culture that seems to value youth more and more, Capaldi's silver hair lies in stark contrast to certain societal trends.
Reactions to a new Doctor are always mixed, though. Ironically, people were freaking out when Matt Smith was cast because he was considered too young for the part. And what happened? Smith positively owned the role and played it with such enthusiasm that it became difficult to imagine anyone else ever playing the Doctor. Isn't that what always happens, though? That person can't possibly be the Doctor… until that's exactly what he is. I have no doubt Capaldi will perform similarly — within two episodes we'll all be sighing with relief and thinking to ourselves, "THIS is the Doctor I've been waiting  for," and it will feel right and true — just as it did with Tennant, just as it did with Smith.
I consider myself fortunate in that I've never seen In the Thick of It aside from a few brief clips here and there, so my exposure to Capaldi has been limited to a very small part he played on Skins. I have no idea what to expect from Capaldi in the role of the Doctor, and I love that. I have no formulated expectations for him to live up to. I get to just watch him in the role and I get to let it just happen. I imagine that's the case for a lot of Who fans in the US.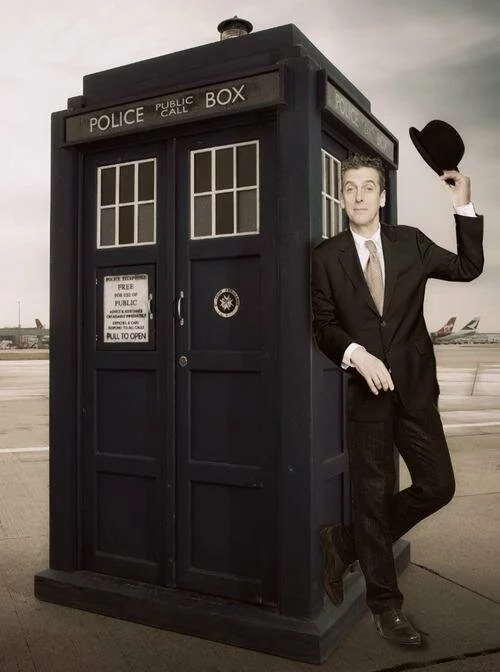 So now that the actor has been decided, the next most important question is what's he going to wear? The picture of him leaning up against the TARDIS with the bowler in his hand has gotten my hopes up in all sorts of ways. I mean, how quintessentially British? It's like A Clockwork Orange meets Doctor Who because all I can think about when I see that hat is Alexander DeLarge — and that's awesome. I hope hope hope that the pic is legit (even though it totally doesn't look legit).
We'll meet Twelve, as I'm sure he'll come to be known, this fall when he officially takes up the mantle of the Doctor, but until then, there's still lots of time to get comfortable with at least the idea of Capaldi manning the TARDIS. I think he's going to be a great Doctor. All that's left for us to do is to wait and see.
Discuss on the Fwoosh forums