Man of Steel opens in theaters this month and Henry Cavill stars as the titular steel man. But he's just the latest in a long line of performers that have portrayed Superman over the last 75 years.  Yes, we all know Christopher Reeve, George Reeves, Tom Welling, and other recent TV faces of Kal-El. You might even be familiar with Kirk Alyn who played Supes in the old movie serials.
But we bet you don't know these three actors who made big contributions to the legacy of the Man of Tomorrow.
Ray Middleton
Superman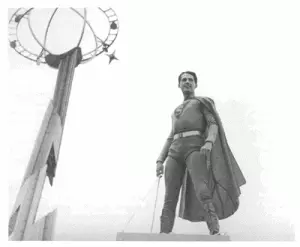 debuted in 1938, and was pretty much an instant smash. By 1939, National Allied Publications was already joining with partners like Macy's to market the heck out of their new golden goose. The Superman balloon debuted in the 1939 Macy's Christmas Parade and the following 4th of July, at the New York World's Fair, Macys co-sponsored "Superman Day", complete with a live, in-person Superman: Ray Middleton.  Check out an amazing Kodachrome film from the event here.

It may have just been a one day public appearance, but Ray Middleton was the FIRST Superman. That's something.
Middleton had a long and successful career on Broadway as well as in film and television, until his death in 1984.
Danny Dark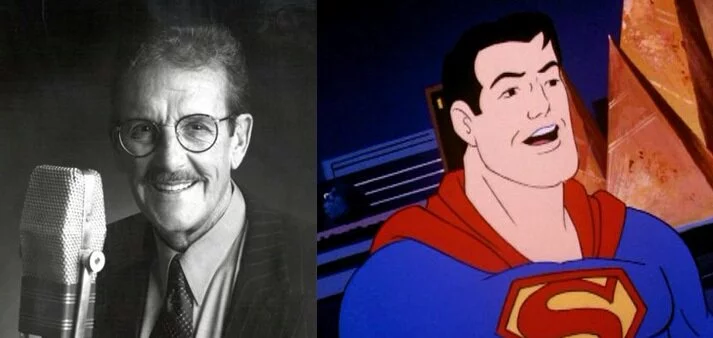 If you grew up in the '70s or '80s and have any affinity at all for comics, then I promise you're familiar with Danny Dark. You may never have seen his face or even known his name, but his voice probably represents the quintessential Superman to you.  Dark voiced Superman in all of the Hanna-Barbera Super Friends cartoons, including Challenge of the Super Friends, The Legendary Super Powers Show, and Galactic Guardians.
Gifted with an amazingly versatile and resonant voice, Dark cut a physical profile nothing like what you might imagine belonged to the powerful, commanding baritone we came to know on TV.  In recent years, a number of voice actors have done a nice job giving voice to Krypton's last son, but if you stop any person on the street—geek or not—and ask them to give you a Superman impression, they'll be drawing from Danny Dark's interpretation, guaranteed.
Apart from his work on Super Friends, most of Dark's voice-over career was in commercials. After Superman, you would probably know him best for delivering the famous "Sorry Charlie" catchphrase in the Starkist Tuna commercials.
Dark was born in 1938, just like Superman, and died in 2004–the same year as fellow Superman actor Christopher Reeve.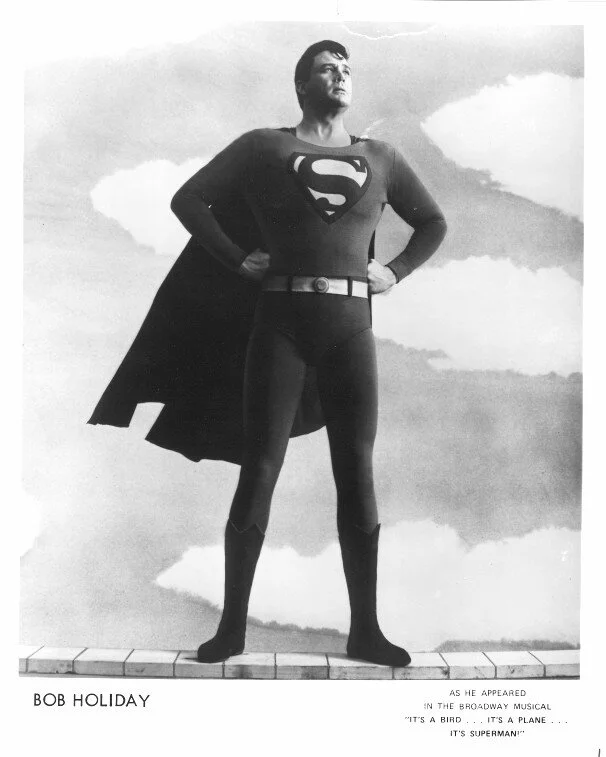 Bob Holiday
Born in 1932, Holiday is our eldest living Superman!
In 1966, It's a Bird…It's a Plane…It's Superman opened on Broadway and ran for 129 performances, with Bob Holiday in the leading role of Superman. While It's a Bird… wasn't exactly a box office hit, it garnered decent reviews and even a Tony nomination for Holiday. It still sees periodic revivals at theaters across the globe, and one could argue it's the predecessor to the current Broadway smash Spider-Man: Turn off the Dark. Ok, that might be a stretch.  Still, it's a notable milestone in the history of Superman portrayals.  After all, with 129 performances, Holiday can be said to have performed the role of Superman more than any other actor!
One wide-eyed audience member during that 1966 run was a teenage Jim Shooter. You can read about his experience seeing the play here.